With Query as a Web Service (QaaWS) becoming such a hot topic and being such a powerful tool, I figured that creating a quick cheat sheet on how to create one would be beneficial to all developers/users using this product. Check out below the steps needed to create your very own QaaWS.
*Note: This guide has been created using SAP Business Objects XI 3.1. Older versions of Query as a Web Service may look and function differently.
Getting Started
To get started we will need to first have the QaaWS Client Tool installed and have access to your SAP Business Objects (BOBJ) repository information. The client tool can typically be found in the following path: Program Files > Business Objects XI 3.1 > Client Tools > QaaWS.
When launching the tool for the first time, you will be prompted to set up a host definition. To do this you will need the following information: Server name, Central Management System (CMS) name and your BOBJ login information.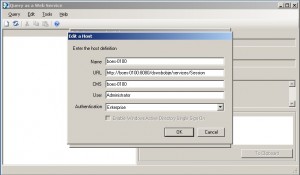 As you see above, when you enter in the Host name / Server name the  URL will be automatically populated and should look something like this: http://<Server Name>:8080/dswsbobje/services/Session. Once you entered the Server name, the URL that gets generated will be validated against the server to make sure that it is responding. Enter in the CMS Name and your BOBJ user id and your host definition will be complete. Now you can provide your BOBJ login credentials and sign into QaaWS.
Creating a QaaWS
After logging in, you now can go ahead and create your QaaWS.  The steps to create and publish your QaaWS are as follows:
Add a New QaaWS
Name your QaaWS
Select a Universe <– Click for more information on Universes
Create a Query
View Example Set of Data
Publish your QaaWS
Adding a New QaaWS
There are two ways that you can create a new QaaWS. The first is to click Query and choose New -> Query. The second is to right click on any folder and click New Query.
* Note: You can Add Folders and Edit, Duplicate, Delete, Rename, Cut, Copy, or Paste your QaaWS/Folders.
Name Your QaaWS
After Creating your QaaWS you will need to provide a name for it on this screen to continue.
Also on this screen, you can enter a Web Service Description or look at advanced properties to change the base Web Service URL, Session Time-out, and Authentication mode as shown in the image below.
Universe Selection
Select the Universe that accesses the data you want to use in your QaaWS.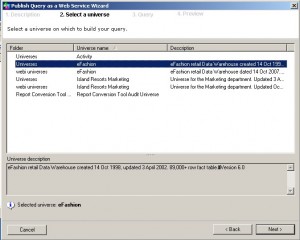 Query Creation
Now it is time to select the data you want to have available in your QaaWS. This page should look familiar to anyone who has used Web Intelligence or pulled data into a Crystal Report using a Universe as a Data Source. Just like in WebI you can select the Objects you want to display and select filters or create prompts to limit your data set.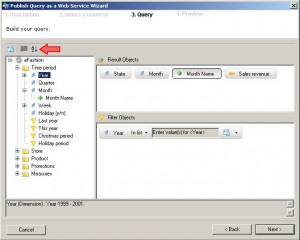 A couple other functions that are available on this page pointed out by the red arrow are: Adding a Ranking, Defining a Sort and,  options such as Duplicate Rows, Fetch Time and Rows Retrieved.
* Note: If you have a prompt in your query filter, you will need to provide values to move on to previewing your data. See Image Below.

Preview Your Data
Once you have selected your data and filters, a preview of this data will show up so you can see what will be provided in the QaaWS.
* Note: Data preview is limited to 50 rows

Publish Your QaaWS
After you preview your data, you can click on Publish and make your QaaWS available to any application that can consume a Web Service.
Wrap Up
In a couple of steps, we were able to go ahead and make our data available as a Web Service. This live connection can be used in fueling apps such as a Xcelsius Dashboard or even a Crystal Report.  We will be diving into both of these topics in upcoming blogs. Check them out when they become available!
Free Web Intelligence Best Practices Guide
We put together a Best Practices Guide for Web Intelligence Development that includes over 20 pages of tips and techniques for developing business-ready reports. Plus we'll show you the common functions that have a negative impact on performance, how to create interactive reports, the best ways to standardize look-and-feel, and much more!
GET YOUR FREE COPY OF THE GUIDE TODAY!