Between my various other projects I've been setting up a virtual machine with all the new BusinessObjects 4.0 offerings from SAP.  This week I finally had a chance to install and set up Data Services 4.0.  Just like in the new BusinessObjects version, there are a lot of changes to be seen here.  Overall it is much more tightly integrated with the BusinessObjects platform, providing a much more streamlined and consistent user experience.  Here's a taste of what's new.
Full Security Integration with the BI Platform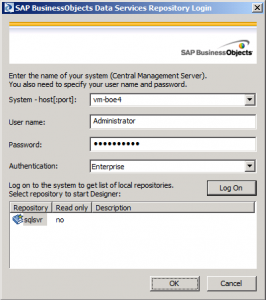 Data Services 4.0 now leverages the BI Platform for security and administration. This puts all of the security for Data Services in one place, instead of it being fragmented across the various repositories. Now, Data Services repositories are managed through the Central Management Console where the administrator can set rights on individual repositories just like he would with any other object in the BusinessObjects world.
This change brings some welcomed improvements. For example, users now log in to the Data Services Designer or Management Console with their BusinessObjects user ID. You no longer need to enter database credentials when you log in to Designer. Instead, once you log into BusinessObjects, you are presented with a simple list of Data Services repositories to choose from.
Built in Text processing transform
I first saw the BusinessObjects Text Analysis offering in a live demo years back. There was a ton of potential, but it was yet another tool separate from the rest of the suite and never got much momentum. Now that technology is included in Data Services 4.0. Using Text Processing, Data Services can read unstructured text such as e-mails and extract the important information from it, including names, places, dates, and their relationships. I am excited to see how this will be used by our clients.
New Datastore support for HANA
A lot of hype has surrounded SAP's new High-Performance Analytic Appliance, or HANA software. This technology will allow for in-memory analysis of data and provides real-time data loads from any data source that Data Services supports. Many of the BI client tools in BusinessObjects 4.0 support HANA, including Xcelsius Dashboard Design and Explorer. I'm looking forward to the chance to work with this new product and find out what it can really do.
64-bit Server Architecture
Just like BusinessObjects 4.0, Data Services 4.0 has native 64-bit support.  Both the server components and client tools are now 64-bit.   The 32-bit server components are no longer offered, but there is still a 32-bit Designer tool available.
Get More Information
Data Services 4.0 is currently in ramp-up with SAP.  If you are interested in what Data Services 4.0 has to offer, read more about it from SAP's What's New guide.  Data Services 4.0 is scheduled for general release in June 2011.
Free Web Intelligence Best Practices Guide
We put together a Best Practices Guide for Web Intelligence Development that includes over 20 pages of tips and techniques for developing business-ready reports. Plus we'll show you the common functions that have a negative impact on performance, how to create interactive reports, the best ways to standardize look-and-feel, and much more!
GET YOUR FREE COPY OF THE GUIDE TODAY!