A Business Objects Universe is the semantic layer that resides between an organization's database and the end user but more importantly, it is a business representation of your data warehouse or transactional database.  It allows the user to interact with their data without having to know the complexities of their database or where the data is stored.  The universe is created using familiar business terminology to describe the business environment and allows the user to retrieve exactly the data that interests them.
A universe contains:
A connection parameter to a single data structure.
SQL structures called objects that map to actual SQL structures in the database.  All objects are grouped into classes and subclasses.
A schema of the tables and joins from the database.  The objects are built from the tables that are included in the schema.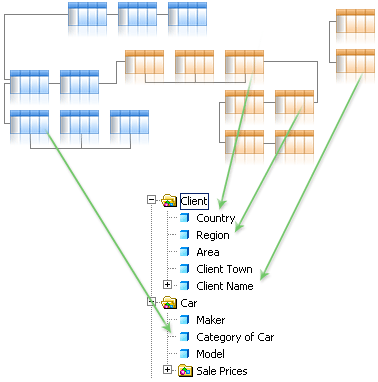 The objects that are created must be relevant to the to the end user's business environment so that the objects present a business-focused front end to the database structures.  The final universe structure removes the need of the end user to have knowledge of the underlying database.
When designing the universe the most important aspect is to keep it simple.  Do not include objects that are unnecessary or that could cause confusion to the end user.  Object names should clearly state what the underlying database field represents.  Additionally, it is important when creating the universe that when creating these objects that the final universe will help achieve business goals.
Advantages of a Universe
Only the universe designer needs to know how to write SQL and understand the structure of the underlying database.
The interface allows the creation of the universe in an easy-to-use graphical interface.
All data is secure.  The data is read-only so there is no danger of the data being edited or changed by the end user.
The reports are created using a simple interface using drag and drop techniques.
All users use consistent business terminology.
Users can analyze data locally.
The universe is the core of the Business Objects suite because all Web Intelligence and Desk Intelligence users will use the universe to create new queries/reports using the familiar business terms.  Crystal Reports can use the universe as an optional or alternative data source and finally, Dashboard Manager uses universe measures to create its metrics.
Remember when building the universe, think about who will be writing the reports today as well as in the future.  Ensure the universe is simple enough for all users, yet robust enough to facilitate business insight.
Free Web Intelligence Best Practices Guide
We put together a Best Practices Guide for Web Intelligence Development that includes over 20 pages of tips and techniques for developing business-ready reports. Plus we'll show you the common functions that have a negative impact on performance, how to create interactive reports, the best ways to standardize look-and-feel, and much more!
GET YOUR FREE COPY OF THE GUIDE TODAY!