SAP Visual Intelligence development interface is easy to navigate and is split between two major modes of Prepare and Share. The client installed tool once opened allows us to create New Documents or open existing Visualizations and or Datasets, the two components making up a .SVID file. Typically these files can be saved in SAP Visual Intelligence Documents folder under Users Documents folder.
Creation of a Visualization involves three steps, one is to connect to a data source and scope and acquire a dataset; two is to prepare the dataset for final cosmetics and data manipulation as part of any cleansing or business representation of Dimensions or Attributes and Measures from raw data, if required; and third is to choose and chart type and built the chart. Once the chart display is the desired result, save and share it.
Acquisition Process: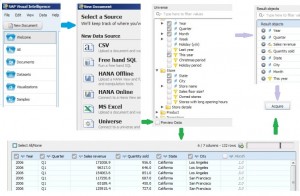 We first Select – New Document from Document Browser -> This shows us list of different data sources available to acquire data. In our example we chose a Universe and selected Dimensions, Measures and applied universe level filters.  Next we have two options. One option would be to Preview Data and other Option would be to directly Acquire Data once we selected our objects. If we select Preview the green arrow shows that the data is shown for columns for further analysis to determine, if we want all the columns or have a choice to select only desired columns and finally click on Acquire. In our example we reconsidered not to select and bring Month Data, which we can at later time edit this Dataset. This option allows users to further scope data, which will be saved in the file upon fetching. Once we click on Acquire Button the SQL is run and data is fetched as saved as part of the file. We see the Prepare Pane.

Data-Split-Visualize Toggle buttons allows users to see Data only on screen in rows and columns; OR Split screen between Data and Visualization Panes OR only use the screen for Visualization Pane giving users more screen space during building the chart.
Grid-Facets are two forms of showing the same data, either with repeating value for columnar data or non-repeating values.
Add Button allows end users to add a new dataset. Merge button allows users to select column from multiple datasets which have common values and use this data to merge both datasets. Data switcher allows end users to switch from one dataset to another.
Prepare Pane: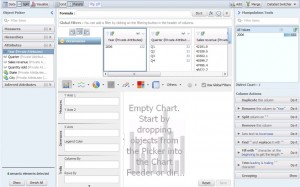 On the left hand side we have a Semantic Layer called Object Picker Pane. Basically the Data we acquired earlier and see on top-center frame on screen in Grid or Facets view is represented as Dimensions or Attributes, Possible Inferred Measures and Possible Inferred Hierarchies during Acquisition, which we can see using Show or Enrich All Buttons. Typically this allows users to see SAP Visual Intelligence Translation of columnar Data, where it proposes, based on data type and values, possible measures and hierarchies based on Time Data or Geographical Location Data.  We have choice to use this pre-analysis interpretation or keep it for enhancements at a later time. In short we can categorized data into Dimensions/Attributes, Measures and Hierarchies in Object Picker Pane.
We can apply Filters on Data Columns or Charts directly. If we apply filters on Data Columns say in Facets or Grids view this is applied whenever that column is used in any chart. If we apply filters on a chart level we can use it for that chart or use Use Global Filters options.
On the Right Hand Side we have Manipulation Tools Panel which allows users to choose columns and manipulate raw data by various functions provided. We can also further use the Formula Editor on the top center on screen and further create running totals, ranking functions and predictive analysis to name a few.
Finally, on center bottom of screen, we see the Visualization Pane which shows us a list of Chart types (Drop Down Box) and we can choose a chart type and feed the chart by dragging and dropping objects from Object Picker Pane or use a left hand side panel inside Visualization Pane called Chart Feeder Panel to select and drop Dimensions, Measures and filters applicable to chart. In short, Chart Feeder can be used to summarize what goes into a particular chart. We can also select an object from Attributes Category of Object Picker Pane and use its context menu to add it to chart or create new by desired measure. Once you create a basic chart you can always also change the chart type to preview the data. This also depends on the data you have.
Save charts by clicking the chart and they appear as thumbnails at the bottom. Also when we right click a chart we can see options to show Legend, Change Orientation, Show Data Labels and also to Share visualization by copying and pasting into Word Documents and attachment to an email.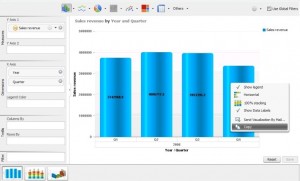 Sharing of Visualization allows users to save sets of visualizations as part of a document. Each of the Visualization can be based on one or more datasets, and also datasets could be from different sources and merged based on common data column values. These documents can be published to SAP Streamwork; Dataset can be published to SAP HANA as new analytic views and the datasets can be exported to SAP Business Objects Central Management Server for SAP Explorer server to be used as information sources for further Exploration; and they can just also be simply right clicked and copied and saved in MS Office Documents and sent as attachments in Email.

Lastly Tool's Preferences which can be access from File Menu, allow users to change other generic settings like Chart Settings like for colors, Default Views of Panels, Databases, FreeHand SQL, Auto-Update and Proxy settings. We can use SAP Visual Intelligence features shown above to quickly build Visualizations.
Free Web Intelligence Best Practices Guide
We put together a Best Practices Guide for Web Intelligence Development that includes over 20 pages of tips and techniques for developing business-ready reports. Plus we'll show you the common functions that have a negative impact on performance, how to create interactive reports, the best ways to standardize look-and-feel, and much more!
GET YOUR FREE COPY OF THE GUIDE TODAY!