SAP Business Objects Labs recently released their "Polestar in the Cloud" initiative in preview mode to the general public.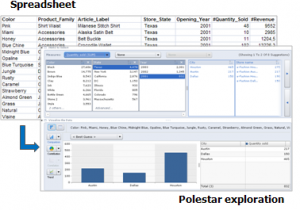 Polestar, which is also available in a traditional install model, enables business users to employ familiar keyword searches to find information hidden in data sources, and then navigate and explore directly on data.
With "Polestar In the Cloud" you can visually explore and analyze your Excel spreadsheets.  Use Polestar in the cloud with financial data, catalogs, customer lists, music libraries, and many other types of data. Simply upload your Excel file, and you'll be looking at your data in a whole new way.
Through this labs rollout, you can use Polestar to analyze one of their sample datasets (including the familiar "eFashion" or NHL Player Stats…obviously this effort was lead by their Canadian development team), or even try it with your own data by uploading an Excel spreadsheet.
To get started, check out the brief demo video, take the samples for a spin, then give it a shot with your own data.
Free Web Intelligence Best Practices Guide
We put together a Best Practices Guide for Web Intelligence Development that includes over 20 pages of tips and techniques for developing business-ready reports. Plus we'll show you the common functions that have a negative impact on performance, how to create interactive reports, the best ways to standardize look-and-feel, and much more!
GET YOUR FREE COPY OF THE GUIDE TODAY!