Continuing our previous post on Input Controls, let's now look into Element Linking in Web Intelligence Reporting. The combination of Element Linking with Input Control allows developers to create hybrid dashboards using Web Intelligence Reporting tool.
In essence, they allow filtering between report elements thereby facilitating interactivity between one or more elements. This also allows us to show related data by different slices of business restricted by scope of filter parameters passed between navigating elements.
To add an Element Link to a Table or Chart, we can right-click the selected report element which is now defined as the source and select -> Linking -> Add Element Link from context menu or select the buttons from top menu to reach the same action. This opens the Define Input Control Window which shows all objects by default as first, which is updated to select one or more objects as filtering objects from the source table. In short, all report elements dependent on Element Links change the data shown based on value(s) selected in the source Report Element Link.
We can use Tables, Charts, Sections and Page body as dependencies of report element links. The source report element link gets updated to show a small icon at the top of the table or chart indicating it is being used to pass and filter data on dependent elements. This allows the creation of a set of tables and charts all linked to each other to provide a navigation and hierarchical flow of data scoped or restricted to data by user selections at various stages.
The below snapshot shows the left panel with the Input Control on State Object. This input control is a list box with multiple selection allowed. In this case, we choose California and we get back two cities with Sales Quantity By Quarter. Then we can mouse click on one of the intersecting cells of Quarter and City and the Stacked Column Chart is updated with Sales Revenue by Lines and Category for the City and Quarter values passed from the Report Element Link. We can see the right top corner symbol on the table indicating it is an Element Link. The Chart Title contains the values being passed so that the user identifies the scope of  data analysis.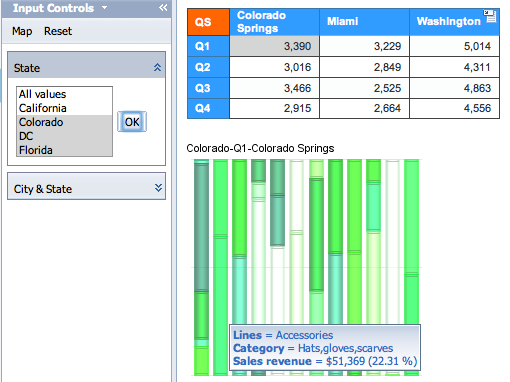 Once user actions are applied and analysis is completed, we can reset the element links so that the dependent report elements are returned to the original data stage. Applied Element Link Sources are specified in the Input Controls tab on the left side page. Here we can select clear filters on source so that all data is restored to the original state.
Input Controls and Element Linking do not function when the report is in Drill Mode. This is because Drill Mode uses the Scope of Analysis to Drill up, down, and across a comprehensive data set, and functionality can be extended to regenerate the SQL to get new data if the old definition does not cover the required level of data. Hence, Drill Mode is different and is active for retrieving from the report data cube or from the database. Whereas Input Controls and Element Links, are acting on data which is already loaded in the report and saved or refreshed and interaction is for displaying related sub-set data rather than retrieving data or stepping into grains or levels of information.
In conclusion, both these methods are great tools to really create a hybrid dashboard. They can be used to explore loaded data and hierarchical subsets of information using Web Intelligence which provides a good alternative to traditional dashboarding tools using these techniques other than traditional ad-hoc reporting.
Free Web Intelligence Best Practices Guide
We put together a Best Practices Guide for Web Intelligence Development that includes over 20 pages of tips and techniques for developing business-ready reports. Plus we'll show you the common functions that have a negative impact on performance, how to create interactive reports, the best ways to standardize look-and-feel, and much more!
GET YOUR FREE COPY OF THE GUIDE TODAY!