Following SAP's big acquisition of BusinessObjects, more and more companies running SAP are looking to BusinessObjects as an answer for their reporting needs. The BusinessObjects tools WebIntelligence and Xcelsius are well suited for this role. However, getting SAP data into those tools is not yet as easy as SAP would like.
Tools like WebIntelligence and Xcelsius are primarily driven by the BusinessObjects universe. Unfortunately for SAP customers, SAP has not yet produced a universe connector to allow you to tap directly into your SAP R/3 data. Instead, SAP customers need to leverage an ETL tool to extract the SAP data into a relational database. For a variety of reasons, BusinessObjects Data Services is the tool of choice for this job. In this post I will explain how Data Services talks to SAP to extract data.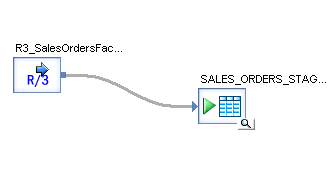 Data Services connects to SAP using the same information you would use to connect through the SAP GUI tool.  In Data Services, you create a datastore with all the required SAP server information.  Once set up, you can import SAP tables into Data Services just as you would with any other data source.  Instead of using a standard Data Flow as you would with a relational database, with SAP data you must use the R/3 Data Flow.
The standard method for manually extracting SAP data is to write custom ABAP code which generates a flat data file. The flat file can then be consumed by other processes.  With the R/3 Data Flow, Data Services uses this same method, although it automates the entire process.  A basic SAP R/3 Data Flow in Data Services will generate ABAP on-the-fly and upload it to the SAP server via a shared directory.  The shared directory can be a network share or FTP that both the Data Services and SAP servers can access.  Data Services then asks SAP to execute this ABAP code.  The resulting flat file is generated in the same shared folder, which Data Services then processes.
From here, any normal Data Services transformations can occur on the data — the extraction from SAP is complete. The SAP data can be joined with data from other sources, or you can use Data Services' built in Key Generation and Table Comparison transforms to build a true datamart with slowly changing dimensions and delta-loaded fact tables. The BusinessObjects universe can be laid on top of this database, allowing you to use all the other tools in the BusinessObjects suite — reporting with Web Intelligence, analysis with Explorer, or dashboarding with Xcelsius.
SAP also offers several "Rapid Marts", which combine Data Services jobs with a prebuilt universe, providing a plug-and-play solution. There are Rapid Marts for Sales, Inventory, Cost Centers, Projects, and more.  Whether you choose to use one of these prebuilt solutions or design your own, it is good to understand the challenges involved with connecting BusinessObjects to SAP.
For More Information
Free Web Intelligence Best Practices Guide
We put together a Best Practices Guide for Web Intelligence Development that includes over 20 pages of tips and techniques for developing business-ready reports. Plus we'll show you the common functions that have a negative impact on performance, how to create interactive reports, the best ways to standardize look-and-feel, and much more!
GET YOUR FREE COPY OF THE GUIDE TODAY!