We're about to embark upon a new project to conduct a large-scale health check on one of our client's primary reporting environments, so I thought it may be beneficial to write about the process we use. Hopefully it will give you some insight into how to conduct a health check, and the benefits your organization will see should you decide to undertake one.
When sitting down with a client to discuss conducting a Health Check, we tend to get asked a lot of questions – which is exactly how I'm going to frame this post. Have some of your own? Add them in the Comments, and we'll add them to the post.
What is an SAP BusinessObjects Health Check?
In it's basic form, an SAP BusinessObjects Health Check is directed to discovery and documentation of an SAP BusinessObjects deployment. The core deliverable of a Health Check is an accounting of system design and performance, along with recommendations on how to best approach the environment for present and future requirements.
When should a Health Check be conducted?
Generally, it's a good idea to periodically (every year or so) conduct Health Checks to keep up with changing demands, technologies and information. We especially recommend undergoing a Health Check activity:
Before migrating to a major new release
When the actual system usage or audience has changed significantly from its original scope
If performance isn't as expected or is declining
When development is complete and new content is about to be migrated into production
Why should I do a Health Check? Where is the benefit?
The main benefit of a Health Check is to receive an unbiased evaluation of your environment, along with a roadmap of ways to improve its usability, security and performance. A chain is only as strong as its weakest link. By identifying the weak links in your system and proposing solutions to resolve them, a successful Health Check put your business intelligence solution and organization as a whole in a much better competitive position.
What does the process look like?
Over the past ten years, we have developed a core methodology around Health Checks, and I'm sure other organizations may have their own written procedures as well. While we often tailor our process to meet a specific goal or area of focus, the workflow generally looks like this:
Kick-off meeting to determine scope, constraints, areas of focus, etc…
Interviews with technical teams
Interviews with developers
Interviews with end-users
Self-guided analysis/Follow-up interviews
Documentation development
Presentation of findings/recommendations
What specifically is evaluated?
We typically start the analysis process with the following areas and add/modify according to the client's specific needs and areas of focus:
Tool selection and usage
Development practices
Architecture & configuration
Underlying databases
SAP BusinessObjects Universes, reports, analytics and dashboards
Custom intranets/extranets/portals
Security protocols
Skill and knowledge gaps
What are the deliverables? What do I "get"?
Deliverables may vary depending upon the methodology of the organization conducting the Health Check. The primary deliverable that we provide is a well-written, detailed document that covers:
The current state of affairs
Issues discovered during the Health Check and their potential resolutions
Recommendations on ways to improve the environment by applying best practices
Education plan to address staff skill- and knowledge-gaps
A Business Intelligence Roadmap to help ensure the organization moves in the right direction
How long does it usually take?
A typical Health Check for a small to mid-sized organization usually takes between 5 and 10 days. If your environment is smaller in scope, it could be accomplished in as little as a few days. Likewise, if you've got a large environment with numerous servers, databases and universes – like the one we're embarking on now – the process can take a bit longer.
Why use a consultant? Can't my own developers conduct our Health Check?
Sure…but that's a bit like having the fox guard the hen house, isn't it? In all seriousness, using your own developers to perform a Health Check is a bad idea for a number of reasons.
First, they don't know what they don't know. A seasoned consultant, who develops a variety of BI solutions day in and day out, has acquired additional skills along the way that give them a unique perspective on best practices and approaches to your problems. Second, your developers may be too close to the problem. Working in an environment for a period of time may blind them to glaring issues an "outsider" will pick up on almost immediately. Finally, as an outside resource, a consultant generally doesn't have to deal with office politics. They come in to do a job, and make recommendations based on fact – not whether or not they're going to ruffle anyone's feathers.
Are these really beneficial? Will I see results?
The "worst" that can happen is we end up telling you that you're doing everything right – but that hasn't happened in the ten years I've been doing these. We can ALWAYS find some tweaks that can have a large impact on the performance, usability and scalability of your Business Objects environment. Two cases that come to mind are a client implementing a suggested change that took query run-times from 20+ minutes to under 3 seconds, and a client that had numerous reports that were unknowingly pointing to test data instead of production data for several months.
What are the next steps after a Health Check is conducted?
As part of a typical Health Check you will receive a document outlining recommendations you can take to improve your environment. Once presented, the recommendations are yours to do with what you wish. You could throw them out the window (not recommended), undertake them in-house, utilize a consulting organization to bring your deployment up to par, or a combination of all three. In any case, the Health Check will provide you with a solid roadmap on what you need to do next to maintain and improve your SAP BusinessObjects environment.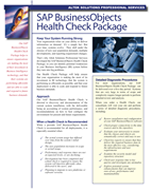 Would you like to learn more about how our SAP BusinessObjects Health Check Package helps to ensure that organizations are making the most of their investment in Business Intelligence technology, that their systems are performing efficiently, and that they are able to scale and respond to future business demands? Download our Health Check datasheet today!
Plus, contact us at (877) 844-7476 or email info@alteksolutions.com for a free, no obligation consultation to learn if a SAP BusinessObjects Health Check would be right for your organization.
Free Web Intelligence Best Practices Guide
We put together a Best Practices Guide for Web Intelligence Development that includes over 20 pages of tips and techniques for developing business-ready reports. Plus we'll show you the common functions that have a negative impact on performance, how to create interactive reports, the best ways to standardize look-and-feel, and much more!
GET YOUR FREE COPY OF THE GUIDE TODAY!