This week, we continue with the rest of the options for Lighting and Shadow Effect choices for Charts in Web Intelligence, and primarily focus on options of Real Lighting, Complex Shadows, Real Lighting and Complex Shadows, and Image Embossed with real lighting and complex shadows. For this exercise we have used a Column Chart. This also lets us look at Bar Display Effect options.
Primarily, the global settings remain the same providing the user choices to change values for Light Power, Shadow X Offset, Shadow Y Offset, Filter Pass Count and Filter Window Size properties used for complex and crisp Shadow Effects and Column Bar Light Reflections.
Basic options of Real Lighting, Complex Shadows and Real Lighting and Complex Shadows charts are shown in the First row. Bar Display Choices include None, Volume, Gradient, Glossy, Cylinder and Light Glossy and are shown in charts displayed in the Second Row. These Bar Effects are extended optional choices for how we want the individual Columns to show up on display.  We also show charts using Image Embossed with real lighting and complex shadows in Third Row.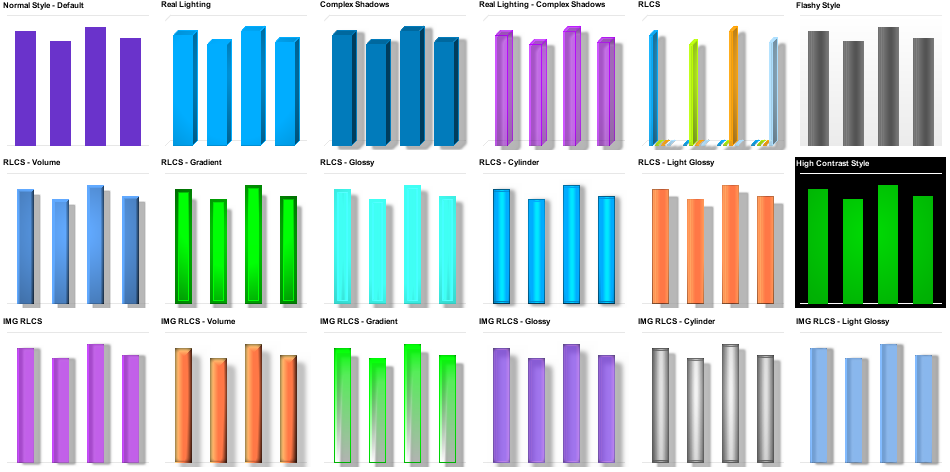 We have used different Palette Color Panels available from default to mono color based palettes and pre-built standard multi-color palettes. We are also able to create custom palettes where we can assign the desired color set. We have used various lighting power values and shadow angles and used different color brightness and masking to produce some variant kind of bars. In the end, we have the three standard styles of Normal, Flashy and High Contrast styles for column chart.
In conclusion, we can use Light and Shadow Effects choices from Chart Properties – Global Settings – Palette Style Properties to create custom formatted chart display styles. In coming sessions, we will take a look at more complex charts which were added to the chart engine in recent versions of SBO 4.x and will take a deeper look into their development and presentation.
Free Web Intelligence Best Practices Guide
We put together a Best Practices Guide for Web Intelligence Development that includes over 20 pages of tips and techniques for developing business-ready reports. Plus we'll show you the common functions that have a negative impact on performance, how to create interactive reports, the best ways to standardize look-and-feel, and much more!
GET YOUR FREE COPY OF THE GUIDE TODAY!