In this session lets look into building Tag Clouds and Water Fall Charts which are relatively new Chart Types which were added in SAP Business Objects 4.x versions.
Tag Cloud Chart shows data measurement in Visual Depth and Intensity of Words displayed, unlike using traditional Bars or Pie charts. Tag Clouds use words, which represent Dimensional Values, to show them from a closer position or farther position with increasing and or decreasing Font Sizes and color groups which in turn represent their measurement value in context to those dimensions.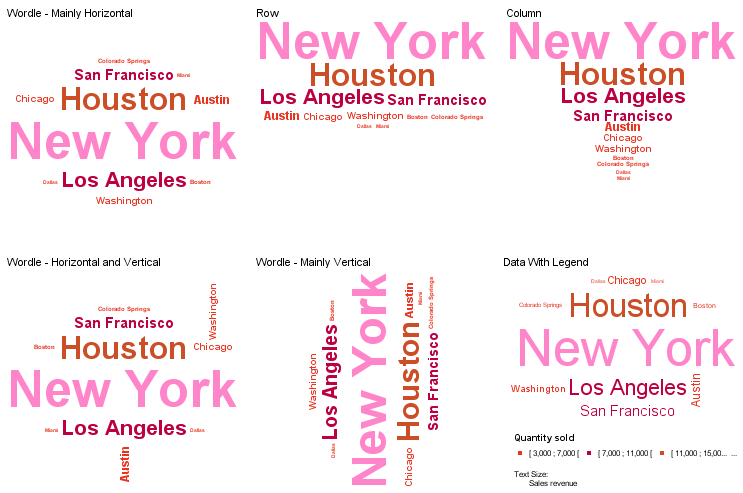 In the snapshot above we see different ways we can represent this type of chart. We can start with the Industry Standard of Wordle and then use it to change layout of Words from horizontal to vertical and or both combinations and also row and column representations. We assign Tag Weight for the measure. In these charts we are primarily showing that New York has the maximum Quality Sold relative to other cities and this is also represented in groups of Quatity Sold Ranges. We can also add another additional measure to get more details, like Sales Revenue related to the Quantity Sold, this is optional. Tag Clouds are very useful as alternative to traditional charts to quickly make necessary data points visible as shout outs and use it also as a linking element for further drilling.
Waterfall Charts were recently added in Web Intelligence which allow us to display cumulative aggregation for a series of data set. For the data series, there is a starting point, set of positive values and set of negative values of the series making up the contributions and total value. Consecutive Bars start from a point in the axes which represent the end of the previous value, this continues for all data points until total of these values is reached.

In this figure we show a typical waterfall chart which shows net sales for different cities vested in for a period. Displaying of Total Bar is optional and can be set from Global General Settings. We can assign custom colors for Starting Bar, Positive Bars, Negative Bars and Total Bar. The graph provides hanging bar visuals between start and total points due to its cumulative effect of consecutive values.
In conclusion both of these new chart types in Web Intelligence enrich the user experience to use these types of charts in specific fields and industries.
Free Web Intelligence Best Practices Guide
We put together a Best Practices Guide for Web Intelligence Development that includes over 20 pages of tips and techniques for developing business-ready reports. Plus we'll show you the common functions that have a negative impact on performance, how to create interactive reports, the best ways to standardize look-and-feel, and much more!
GET YOUR FREE COPY OF THE GUIDE TODAY!