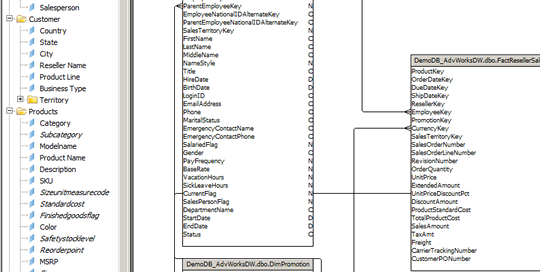 In meeting with organizations who are new to SAP BusinessObjects or who are legacy Crystal Reports users, we are often asked the question "Why should I use a Business Objects Universe?".  To organizations who have worked with universes for a period of time, the advantages and value proposition are clear.  But for organizations who are new to universes, it can often be a challenge to quantify the value of the semantic layer.
In this post I hope to outline a few of the reasons why we recommend implementing universes, even if you're not using an SAP BusinessObjects tool that specifically requires them.
Integrated security
One of the most common ways that security is implemented into an SAP BusinessObjects Universe is to dynamically restrict data being returned by a query.  In this example, only sales belonging to the user that ran the report or viewed the dashboard would be shown.  You can also use this technique to segregate data by customer, regional manager, product division, warehouse, etc… to give everyone a personalized view of their information.  But that's just the beginning.

You can also use the built-in universe security to restrict access to particular objects (such as salary or SSN), control the types of queries a user can run, change the database connection depending on the user, and even dynamically map to other tables.  Leveraging the universe model gives you complete security over your environment, and the best part is you only have to apply the security once and it takes affect whether the user is refreshing a canned report, viewing a dashboard or creating their own ad hoc report.
Single version of the truth
We've all been there.  You're at a meeting discussing sales numbers and three people give three different answers on what last month's sales were.  The Sales Manager defines it as bookings made.  The Warehouse Team counts only orders that were physically shipped out the door.  And Finance, well they pull a bunch of different information into their spreadsheet and come up with a third version.  They may all be correct, but they're also all wrong.
Building a universe layer "forces" you to come together and define the terminology that you use, perhaps in the case above creating separate "sales" and "shipments" measures to satisfy everyone's reporting requirements.  When reporting through the universe, everyone in the organization will benefit by having access to the same information, defined in the same way, using the same calculations.
Build once and reuse
Some of the clients we meet with, particularly those that have been using Crystal Reports for some time, are resistant to using universes because "it would be easier to just hardcode the SQL" or "our data structure is too complex".  Sure, it may be easier the first time to hardcode a SQL query into a report, but what about the second, fifth or tenth time you have to do that?  And as for the data being too complex, with few exceptions if you can define it in SQL you can build it into a universe.  This ability to define the universe semantic layer one time and leverage it across the entire SAP BusinessObjects toolset is huge.
Maintenance/change management
Perhaps one of the most overlooked benefits of utilizing the universe layer is around maintenance and change management.  With the universe model all of your logic is in one place, making maintenance straightforward.  Plus, if the data model for any of your upstream systems changes, you can in most cases modify the universe to reflect those changes without having to touch any of your downstream reports, dashboards or analytics.  Just imagine if you had 2,000 reports written against hardcoded SQL sitting on top of a data model that has now changed radically in a new release.  I've seen it happen, and it wasn't pretty.
Intuitive interface for developers and end-users
This is what it's all about: providing end-users and developers alike with a drag and drop interface where they could build reports using business terminology rather than SQL code.  Which is more intuitive to an end-user: SUM(DB_AdvWorksDW.dbo.FactResellerSales.SalesAmount) or 'Sum of Reseller Sales'?  Now imagine this simple example using CASE statements, datatype conversions, etc… and you'll understand the true power of the SAP BusinessObjects universe.
In using the universe layer, report authors and developers can reference information in common business terminology, and be shielded by all the technical complexity and transformations that are happening behind the scenes.
Want to learn more?
There are many benefits to using the Universe model, these are just a few of the most popular.  Want to learn more?  Call us at (877) 844-7476 or email info@alteksolutions.com to see how you can leverage the power of the universe for your organization.
Question:  Does your organization utilize SAP BusinessObjects universes?  If so what advantages do you see, and did you find any downsides?  If you don't use universes, why not?
Free Web Intelligence Best Practices Guide
We put together a Best Practices Guide for Web Intelligence Development that includes over 20 pages of tips and techniques for developing business-ready reports. Plus we'll show you the common functions that have a negative impact on performance, how to create interactive reports, the best ways to standardize look-and-feel, and much more!
GET YOUR FREE COPY OF THE GUIDE TODAY!